Machinery Sales
We are able to provide a whole range of solutions for the stone industry and our extensive product knowledge ensures you choose the right machinery for you and your business.
New Stone Age has supplied stone processing machinery to the UK market for over 30 years, having collaborated with BM since the early 1980 we have grown to understand nuances of meeting our customers needs.
We work with you to ensure we provide the correct machinery for your processing needs. Having a good understanding of working practices within the industry we always try to accommodate special requirements. Sometimes we have to analyse several factors that can sometimes effect how a certain machine will be installed or sited. The machine has to work in harmony with your infrastructure and we always plan how your materials will be processed and handled throughout.
We always ensure that we provide assistance from the design and quotation stage right through to installation and training. All our machinery is installed by highly trained technicians from each manufacturer. The reasoning behind this, is that the technician needs to fully understand the machinery.
Repairs and Service
We all know that machinery will give you longer life, better performance and more value for your money if you look after it, we offer a maintenance and servicing package to suit most companies.
Our business has many years' experience carrying out service and repair work on all makes of stone working machinery; this service is available to all our customers and not just those who have purchased equipment from us. We also have experience helping to organise removing and/or moving machinery to a new location and re-installing.
We also specialise in rewiring old machines with the latest technology using touchscreens, inverter drives and encoder positioning. This normally transforms an old saw, facilitating more production and ease of use.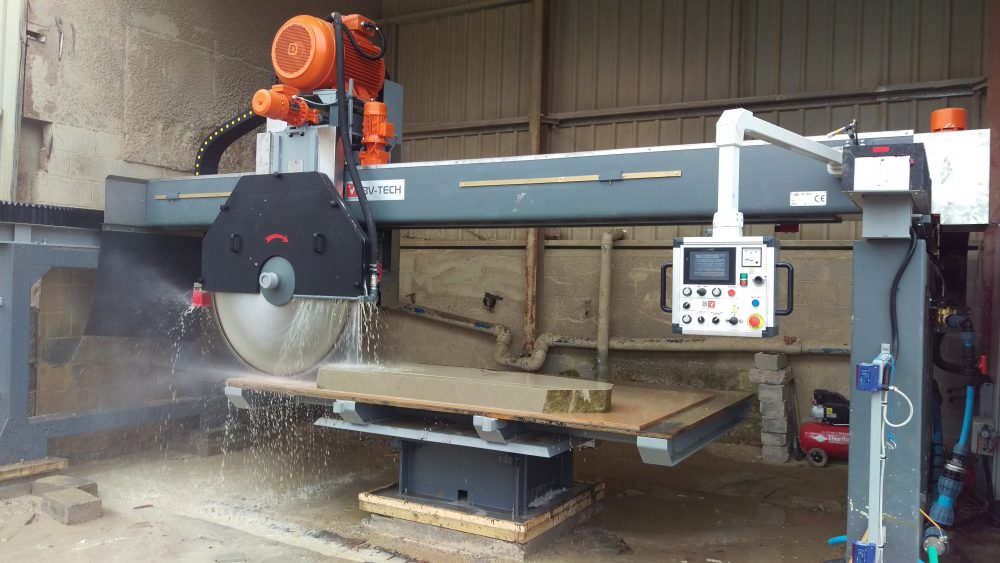 Spare Parts
We supply genuine spare parts for all our machines.
We understand that production from your machinery is very important. Down time is very expensive and we know that our customers relay on us to quickly provide replacement parts as soon as possible. We stock a range of consumable parts at our premises in the UK and our suppliers stock all the parts that may be required through wear and tear or accidental damage.
We use leading couriers such as DHL and TNT to ship parts either next day by air or via the road service when heavy parts are required.
CAD Templates & Stone Detailing
Our friendly and knowledgeable team have over 20 years of experience to help ensure you exact the maximum benefit from your project.
With the ever demanding as-built considerations which under the latest legislation is a major factor in Dimensional stone design, we understand the significance of innovative better-conceived ideas. Pro-active guidance, supported with the latest technology, will help understand all aspects of the stone suitability at the crucial design stage. This will help reap financial benefits in terms of cost savings and budget targets. Please contact us for general help and advice and our comprehensive design service.
Design & Management of Machinery Solutions
We work on a variety of projects, large and small providing a full solution to all of your requirements.
The highest standards and efficiency are all at the heart of everything we do.
Computer Aided Design Service
Our experience designer employs the latest available CAD technology.
We accept all formats such as .DWG & .DXF and drawings in both electronic and Paper/Disc format.
Working Drawings – Stone Schedules
Full size templates and 3 dimensional stone drawing service
Retipping
We offer a full segment re-tipping, and tensioning service.
We use Italian Diamant-D segments.